Flagstaff & Northern Arizona
Four Season Climate...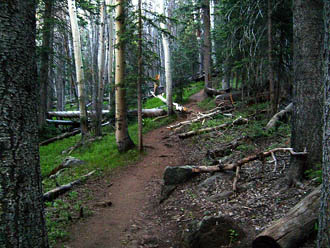 Flagstaff's four-season climate provides for year-round outdoor activities, cultural, historic and scientific attractions, lively festivals, concerts, and small-town holiday charm. Just 2 hours north of Phoenix, Flagstaff sits at 7,000 feet but the low humidity and diverse terrain provide mild weather conditions and clear air throughout the year.
Flagstaff is the ideal base for exploring the treasures of Northern Arizona. Surrounded by natural wonders like the Grand Canyon, Flagstaff offers dozens of inns, a multitude of hotel and motel accommodations, conference and meeting venues, more than 200 restaurants, numerous night spots, and a variety of cultural, historic and scientific attractions. Visitors from all over the world are attracted to our clean mountain air, year-round outdoor recreational opportunities, historic downtown charm and our Western legacy of pioneer ranchers, railroad builders and lumbermen.
Some of the West's most beautiful country surrounds Flagstaff, from the Coconino National Forest and the San Francisco Peaks (12,633 feet/3,851 meters) to the Red Rocks of Sedona to the rugged deserts of neighboring Native American nations. Grand Canyon National Park, Sunset Crater Volcano National Monument, Wupatki National Monument and Meteor Crater are all within easy driving distance, as are many more archaeological treasures and attractions.
At the junction of two major U.S. interstates, served by a regional airport with direct flights to Phoenix and Los Angeles as well as a busy train depot, Flagstaff is a key destination for people seeking the adventure, natural beauty, charm and wide open spaces of the American West.